Chocolate | Dried Fruit | Sweet
This cup is for the commuters, the driving through-ers, and the hurry-up and do-ers. They've got places to be and coffees to drink, making this dual-purpose blend the best way to go. Well, we say dual-purpose blend, but honestly, it's an all-purpose blend because there is not a brew method we have tried that the GA 400 can't handle. It's that versatile. GA-400 is an easy-going craft coffee that holds its own in both drip and espresso extractions. Smooth chocolate notes and dried fruits add satisfying sweetness and creamy complexity to a beautifully blended medium roast for a smooth but fascinatingly complex everyday drinker. With a round mouthfeel, it's a flavorful option that leads with dried fruit and a just-right balance of sweet milk chocolate. From ITP to OTP, it's a cup that's guaranteed to get you where you want to go.
NOTES
Our in-house roastmasters take great care to ensure every component shines on its own, but together, this blend delivers a well-choreographed rush that tastes like gold. No matter which brew method you prefer, GA-400 delivers rich flavor, an approachable complexity, and a smooth, well-rounded body. It stands beautifully on its own as a black drip coffee or gently softened with a dash of cream. As an espresso, this medium roast dual-purpose blend is fantastic, with a good amount of crema and an intensely satisfying aroma.
TASTING NOTES:
ROAST LEVEL: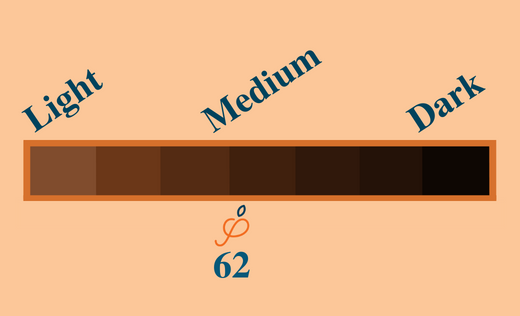 THE BOTTOM LINE:
They say MARTA is Smarta, but GA-400 is one clever cup.
COFFEE BEAN FACTS:
When it comes to coffee, there are two types of people in the world: those who love it and those who haven't tried ours yet. This unique house blend is craft roasted for a rich flavor sure to please even the most discerning coffee drinker.
WHAT TO EXPECT:
Perfect for espresso or regular drip coffee brewing methods, the earthy sweetness of chocolate and dried fruit flavors in the blend is delicately balanced with a sugary sweetness, for a satisfying finish that lingers on the palate.
BLIND ASSESSMENT
Coffee Review, an industry-leading review platform that utilizes a 100 point scale and wine-style review process, evaluated GA 400 as espresso. Fruit-toned, chocolaty. Dried apricot, chocolate fudge, oak, honeysuckle, almond brittle in aroma and small cup. Velvety mouthfeel; fruit- and chocolate-toned finish. In three parts milk, chocolate and almond notes converge for a dessert-like experience, with a hint of dried apricot.
Brewing Methods for Dual Purpose Blend, GA-400 and Ratios:
Espresso - For Single Origins
Dose In: 20 grams of coffee
Dose Out: 60 Gram (Aiming for a 1:2 Ratio) Overall Time: 35 Seconds (7 seconds pre-infusion and 28 Seconds Extraction)
Pre-infusion: 7 seconds at 1-2 bar of pressure
Extraction: 28 seconds at 9 bar of pressure
Water Temperature: 200f (93c)
Pour Over
0.06 grams of coffee per 1 ml of water (Ex. 30 grams of coffee for 500 ml cup)
200 f (93c) degree filtered water
Semi coarse grind (similar to sea salt), Dose a little heavy, grind coarser - it really brings out the nuance in the coffee
4-minute brew time
*Note: These recommendations are just a starting point. Experiment with grind settings first to achieve your desired flavor before adjusting the coffee-to-water ratios.